It is never too late to learn something new. Thierry De Vos (59) is a perfect example of that. In 2017, the business manager of Spiers Slaap decided to enroll in the guidance program Road to Growth. Pretty amazing for someone who is close to celebrating his sixtieth birthday. The result? In addition to three flourishing branches in Oudenaarde, Oostakker and Sint-Martens-Latem, a fourth establishment in Bruges. Refreshing entrepreneurial courage.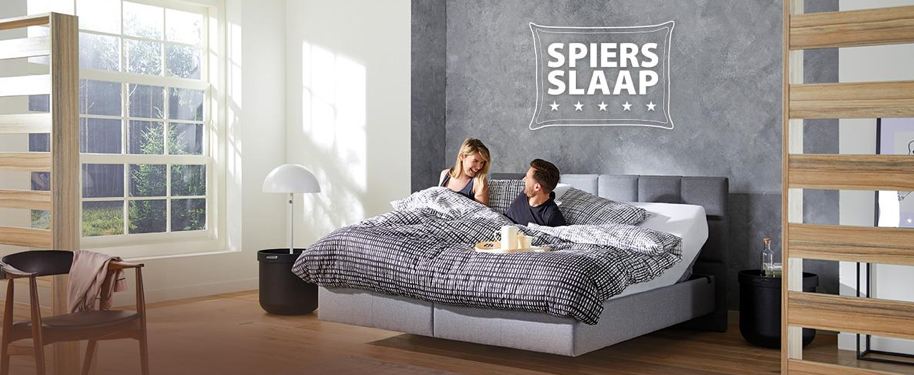 Spiers Slaap is a true family business. Leopold Spiers started his mattress business in 1881. The current business manager, great-grandson Thierry De Vos, was brought up in an entrepreneurial environment, so he is used to going with his gut feeling. Still, early 2017, when he started thinking about expanding the business, he was torn by doubts.
"When you're on your own as a business manager, you also have to make every decision by yourself. You can't consult with a board of directors about whether or not something would be a good move. When I was toying with the idea of opening a fourth branch in Bruges, lots of questions were going through my mind: is it financially viable? Don't I have enough work already? Do I have the drive and energy to recruit and train new staff?"
Thanks to a discussion with UNIZO adviser Ignace, who just happened to drop by, he suddenly sees the light. "He casually mentioned Road to Growth. It immediately caught my attention, because advice from someone not immersed in the business was very welcome at that moment."
Confrontation with yourself
Thierry decides to take the guidance program. What does he think is the biggest added value of working with an external coach? "You are forced to think about your approach. It helps you to get to know yourself much better. There are many things that you know subconsciously, but they do not surface until you talk to someone else. It can be confronting, but it is a good experience.
For example, I started to realize that I shift my focus rather quickly and I am easily influenced by my emotions. That caused me to really get stuck on the question: do I open a new branch or not? Ignace helped me decide by focusing on the rational side. In every decision you have to weigh the pros and cons. Do the pros outweigh the cons? Then why wouldn't you do it? That turned out to be the case, so I took the plunge."
In addition, the outsider perspective proved to be useful. "Because Ignace is not working in this business, he had a fresh view on things. He also forced me to think in the long term. I was usually inclined to say: 'We'll see, maybe next year'. I stopped doing that. As a business manager you need to know where you want to be in five or ten years."
Impulse for new projects
Meanwhile the fourth branch of Spiers Slaap is a fact. And the shop in Oudenaarde has moved back from the outskirts to the city center. "The renovation of the market square has finally been completed, so I wanted to go back to the people."
Time to take a breather? Not at all. Thierry already has his next project in the pipeline. And again, he starts with UNIZO. "This time it will be a course on how I can make my business more attractive to new employees. That is a striking new trend: as an employer, you really have to sell yourself these days. I want to know how to best handle that."
He may be close to sixty, but Thierry clearly has been bitten with an entrepreneurial passion.
"It's a pity really that I didn't start this guidance program twenty years ago. It's extremely valuable to have such an external sounding board. And it is much less dangerous than discussing your plans with your competitor."
Are you looking for renewed energy for yourself and your business, just like Thierry? Then register now for a guidance program at UNIZO.

The Road to Growth guidance is a collaboration between UNIZO, Antwerp management School and Graydon. AMS developed the tools and methodology that Road to Growth coaches apply in businesses and, at a later stage, will conduct further research based on the results from these programs.